Cyber Security is the study and practice of defending networks, data, and computer operating systems from online threats. German interest in this area is on the rise. Germany enacted the Cyber Security Strategy in 2021 with the intention of making cyber security a shared responsibility of the government, private sector, academic community, and general public. Gaining expertise through a cyber security degree will make you indispensable in the twenty-first century. 
Germany is renowned for having excellent academic standards. All students, both national and international can use its well-organized higher education system. A degree in Cyber Security can lead to a variety of work prospects in Germany. Graduates from this discipline hold jobs in a variety of sectors, including manufacturing, transportation and infrastructure, banking, healthcare, and law enforcement.
Why should one study Cyber Security in Germany?
German universities are widely regarded as the best in Western Europe for pursuing an MS in Computer Science with a focus in Cyber Security. 

Around five to six German colleges that specialize in MS in Computer Science with Cyber Security are among the top 100 global universities.

Salary increases for German university graduates have increased consistently by 

4% from 2016 to 2019.

 

The salary of cyber

 

security specialists in Germany is anticipated to climb by 9% roughly every 15 months.

In comparison to other German cities, it has been noted that earnings for MS in Cyber Security are 14% higher in Berlin. 
MS in Cyber Security in Germany: Course Highlights:
Let us give you a summary of the master in Cyber Security in Germany for Indian students before learning about the top Cyber Security universities in Germany: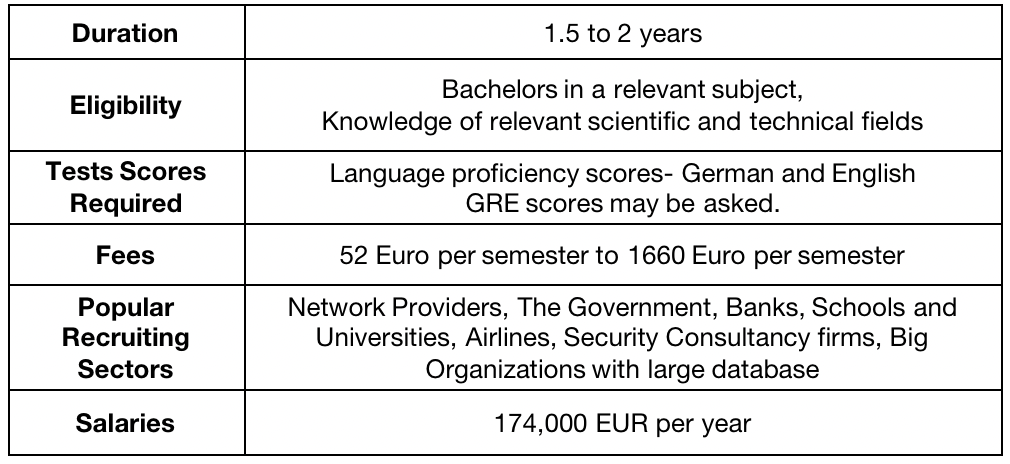 Top Universities offering Cyber Security in Germany 2022-23: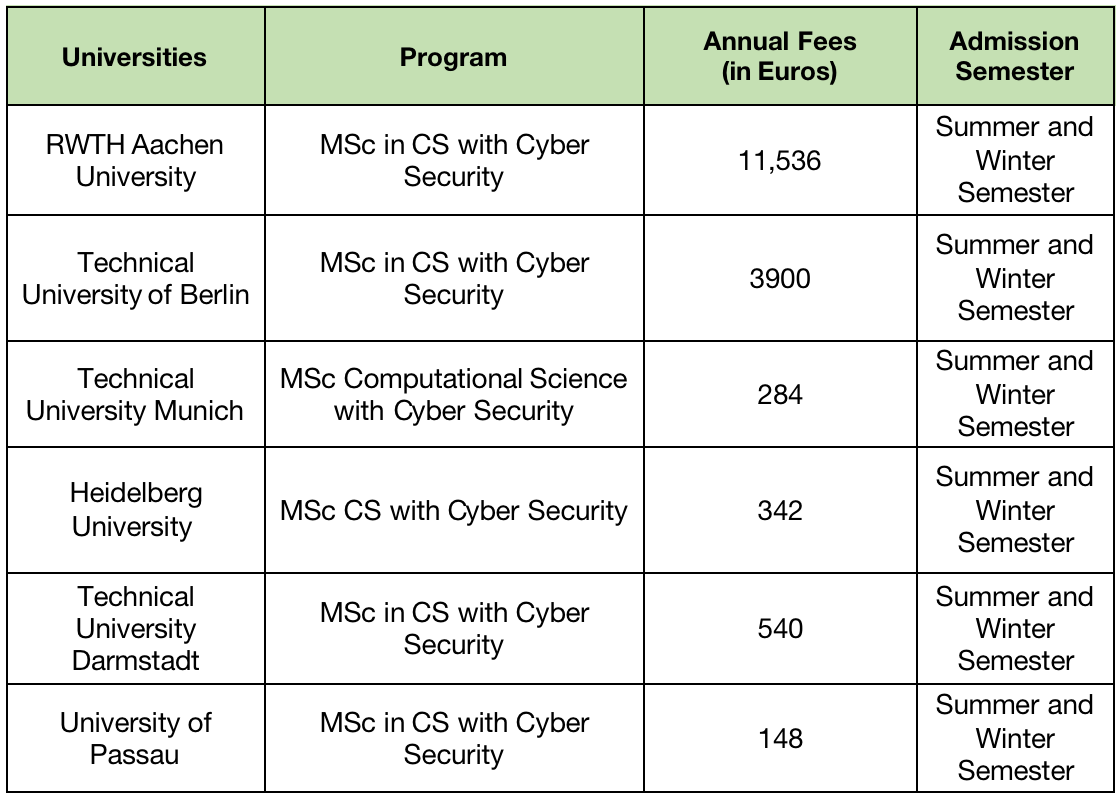 Career after MS in Cyber Security  in Germany:
After completing your Masters in Cyber Security, students can look forward to great job options in Germany. 

With an MS in Cyber Security from Germany, students can obtain their degree in a fraction of the time and money of other well-known study places and still receive a degree of the best caliber, enabling them to continue their career anywhere in the world.

A student can earn up to 174,000 Euros per year working in Germany after receiving their master's degree.

Germany is projected to have 1.3 million competent IT employees by the end of 2022. Additionally, the German technology sector's revenue growth is being driven by IT.
Career Domains and Salaries 2022:
Some of the popular Job profiles in Cyber Security are listed below along with the salaries: 

Hopefully, reading this blog will equip you with the knowledge needed to enroll in a master's program in cyber-security in Germany. Planning to study in Germany? Speak with Uni-Access's expert advisors. We can assist you in selecting the ideal program and university in Germany as well as in submitting your application so that you may be considered for candidacy. 
Connect with us immediately and right away!
Also Read: Computer Science in Germany