In Germany, which has completely embraced digitization, there is a greater need than ever for IT and computer science specialists in all fields. When it comes to company digitization, people's digital abilities, and digital public services, Germany is one of the most advanced EU nations.
Furthermore, in order to prepare prospective workers early on, German institutions and colleges are eager to host students and recent graduates for internships and traineeships. 
Germany's universities offer degrees in IT and computer science that require some challenging coursework. Furthermore, with courses designed to meet industrial needs, there are countless chances to explore after graduating in this subject from Germany.
Why one should  study Computer Science in Germany?
With a 3.1% unemployment rate, Germany offers master's graduates an average salary of 76,000–103,000 EUR (INR 66,27,743–89,82,336) a year.

The majority of public universities in Germany provide tuition-free undergraduate and graduate programs in computer science.

For master's applicants, there are several scholarships available in Germany to help with overall costs.

According to salary statistics, salaries in Germany have increased steadily by 4% from 2016 to 2019.

A decent median salary of about 11,500 Euros per month is offered to postgraduates in the MS-CS field. This is equal to 9,38,000 Indian Rupees.
MS in Computer Science in Germany: Course Highlights:
Let us give you a summary of the master in Computer Science in Germany for Indian students before learning about the top Computer Science universities in Germany: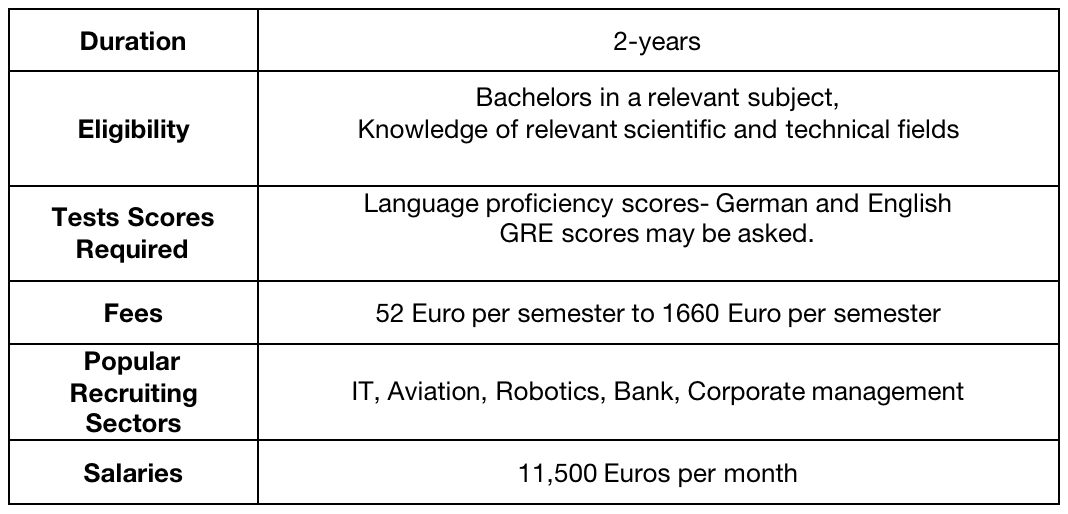 Here is a list of computer science specializations you can pursue in Germany (please note that this list also applies to those with a background in BCA or IT):
Artificial Intelligence

Applied computer science

Cyber-securities

Computational Engineering

Digital Engineering

Database systems

Data Science and Machine Learning

Visual computing

Cloud computing

Information systems

Software engineering

Embedded systems
Top Universities offering Computer Science in Germany 2022-23: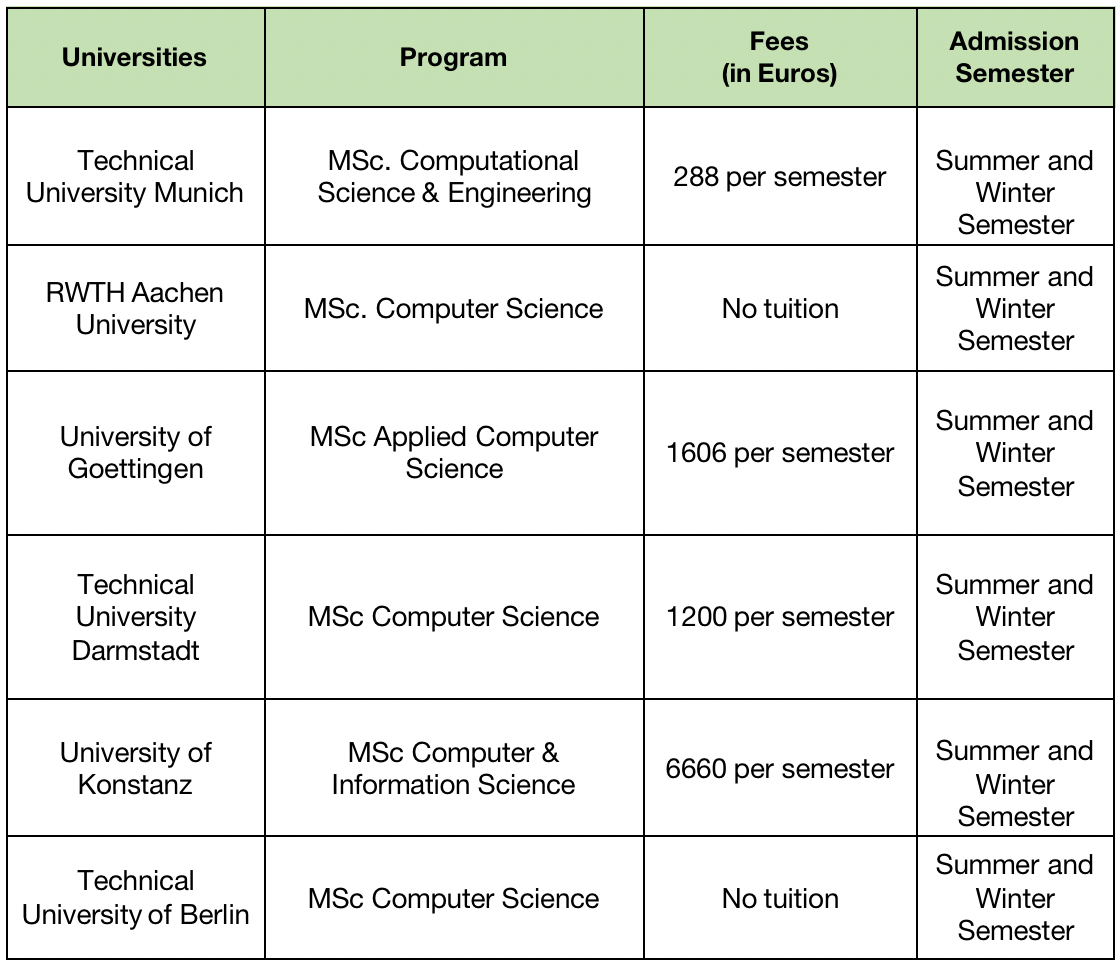 Career after MS in Computer Science in Germany:
After completing their Master's in Computer Science, students can look forward to great job options in Germany. 

Germany's IT market has the potential to grow by USD 16.21 billion between 2021 and 2025, and it will do so at an accelerating CAGR of 2.60%.

For students pursuing an MS in Computer Engineering in Germany, the job market is undoubtedly rewarding after graduation. The annual average base income is up to 60,000 euros.
Career Domains and Salaries 2022:
Some of the popular Job profiles are listed below along with the salaries: 

Hopefully, reading this blog will equip you with the knowledge needed to enrol in a master's program in Computer Science in Germany. Planning to study in Germany? Speak with Uni-Access's expert advisors. We can assist you in selecting the ideal program and university in Germany as well as in submitting your application so that you may be considered for candidacy. 
Connect with us immediately and right away!
Also Read: Automobile Engineering in Germany