At some point in time, most of us think about owning a new car and then finally buying it. And when you first drive that car on your own, did you experience a feeling of adrenaline? and then understanding how the accelerator and brake pedals function guarantees that you can drive safely and enjoy those long rides. 
Imagine how much fun it will be to design your first car/bike or bicycle if you are incredibly passionate about this line of the field.
The world of automobile design is where every step towards reaching your own destination is concerned with ensuring that users of the vehicle you designed reach their destination safely! 
Scope of Automobile Engineering in Germany:
Germany is renowned around the world for both its great automobile sector and engineering excellence. German automobiles stand for incredibly valuable innovations in design, dependability, safety, and safety from Asia to the Americas. The largest production and sales market in Europe by a significant margin is Germany.
In Europe, automotive profits based on consumer spending will nearly double from EUR 850 billion in 2016 to EUR 1,400 billion in 2030, according to the MMR study report. In the same time frame, the percentage of total automotive revenues devoted to data-enabled services and shared mobility will increase from 0.2 to 27%.
In Germany, the government announced plans to double the amount of purchasing incentives previously offered for battery electric vehicles as part of its EUR 130 Bn stimulus package designed to support the country's post-coronavirus economy.
Germany has also declared that by 2030, all new cars must be electrified, prohibiting gas-powered vehicles. In Germany, the automotive market is anticipated to develop at a CAGR of 4% from 2017 to 2026, reaching US$ 5.75 Mn.
Job prospects for Automobile Engineering in Germany:
The average gross pay for automotive engineers in Germany is 

€

78.417, or about  

€

38 an hour.

 

Additionally, they earn a 2.737 € bonus on average. Salary estimates based on anonymous employee and employer responses to a salary survey conducted in Germany.

The average salary for an entry-level automotive engineer (with 1-3 years of experience) is €55.045.

 

On the other hand, an automotive engineer at the senior level (8+ years of experience) makes an average pay of €97.326.
Automobile Engineering Career Domains:
General Automotive Engineer – Automobile-specific specializations encompass a wide range of tasks for automotive engineers in the automotive industry.
Manufacturing Engineer– It is the responsibility of manufacturing engineers to design the vehicle's manufacturing processes and to oversee their optimization for effectiveness and precision.
Test Engineer– To find out whether the individual parts or the finished vehicle meet the design specifications, test engineers will subject them to environmental, stress, and performance testing.
Design Engineer– Design engineers are in charge of the actual design and conceptualization of the car itself during the concept and design phases of automobile design.
Purchasing Engineer– Purchasing engineers organize the purchase of raw materials, components, and sub-assemblies needed in the manufacturing process, and they balance stocks and budgets to match incoming orders and money so that precious commodities are not retained in excess with no customer.
Robotics Engineer– Robotics Engineers are in charge of the design, maintenance, and programming of the robotics used in the manufacturing process.
Highly recommended Automobile Engineering companies in Germany :
• Honda                              • Skoda 
• Volkswagen                      • Land Rover 
• Toyota                               • Audi Motors
• Nissan                               • Opel
• Honda                                • Daimler AG
• Mazda                                • Alpina
• Mitsubishi                           • DKW
• Mercedes-Benz                 • Borgward
• BMW                                  • Auto Union
• Porsche                             • Horchl
Career Domains and Salaries 2022:
Some of the popular job profiles in Automobile Engineering are listed below along with the salaries: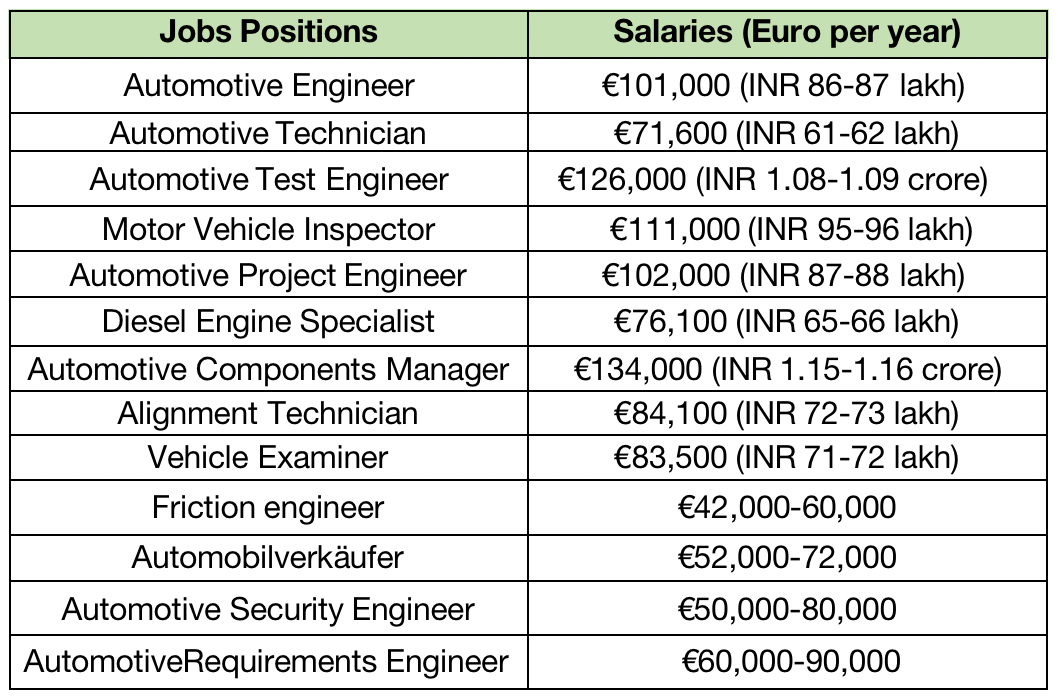 Hopefully, reading this blog will equip you with the knowledge needed to enroll in a master's program in Automobile Engineering in Germany. Are you planning to study in Germany? Speak with Uni-Access's expert advisors. We can assist you in selecting the ideal program and university in Germany as well as in submitting your application so that you may be considered for candidacy. 
Connect with us immediately and right away!
Also Read: MS in Automobile Engineering in Germany